When choosing a live TV streaming service, we came across Sling TV and had to look around for what it offered before subscribing to it or moving to the next one on our list. The price-friendly packages available for Sling might have influenced us to get a subscription, but there's more to a streaming service than just the price; one thing is the unavailability of Sling TV in Canada. Thus, we have more Sling TV alternatives.
Sling TV has a record for the lowest number of channels it offers, and with the diverse content from all the multiverse, we need more channels that feed our TV entertainment expectations or precision of the content. Therefore, the prices have to contain more value (channels) for less money as compared to the case with Sling TV.
If you are wondering about watching Sling TV in Canada, subscribe to the Best VPN Canada, and you will be able to bypass the geo-restrictions!
Other Sling TV alternatives have ensured they provide many channels to select from.
Best Alternatives to Sling TV
With the obvious Sling TV con, one might wonder, who are Sling's competitors? Many streaming services provide way more channels than Sling TV and offer similar or lower prices.
For example, Sling TV offers only 50-75 channels at $50 for a subscription. In our list, the best Sling TV alternatives in 2022 will get reviewed as we compare live TV streaming services.
To start us off, we have Fubo TV vs Sling TV. If you are looking for a sling TV Canada alternative, look no more since Fubo TV has got you covered. It has the most competitive prices for the channels and quality.
You can get three packages with Fubo TV, and each is a step up from the previous tier. For a starter package which costs $64.99, one gets over 100 channel access and 250 hours of DVR space. You can also use the account on up to 3 devices simultaneously.
The Elite package from Fubo TV is the ultimate package that gives you access to over 150 of the best channels, ten simultaneous stream access, and 1000 hours of DVR space. An additional package called Latino Quarterly goes for $33 a month. 
It gives you access to 33 channels, three simultaneous streams, and 250 hours of DVR space without forgetting the free airing of the CONMEBOL qualifiers.
With the prices in check, Fubo TV has great device support. You can access it from your TV streaming media players such as Apple TV, Amazon Fire TV, TV Stick, Chromecast, and Roku. You also expect it on your smart TV and mobile Android and iOS. You can also access it on your desktop browsers and Gaming consoles.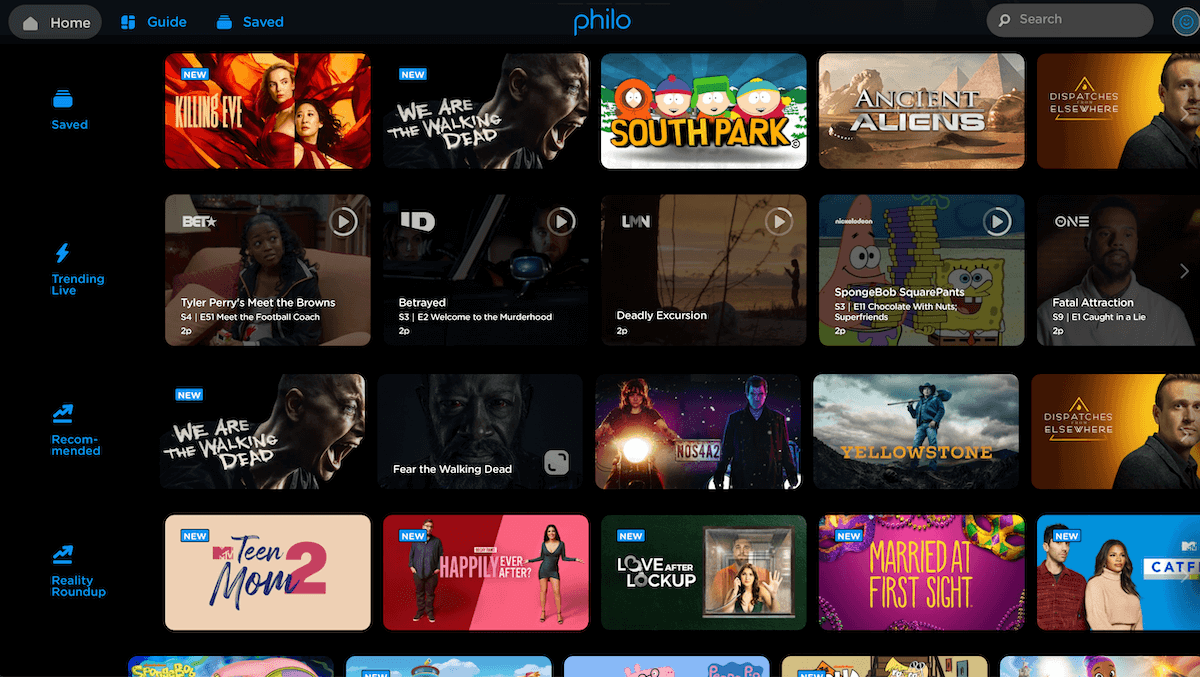 Philo TV steps in as one of the cheapest Sling TV alternatives and the cheapest cable replacement. Being the cheapest, it does not mean that you get lesser quality or options for channels with Philo TV.
A Philo TV subscription costs only $25 a month, which is subject to a 7-day free trial. At this cost, you get access to more than 60 channels that have the best content in HD. In addition, unlike other streaming services that might have a limited DVR amount of time, Philo TV offers unlimited DVR space. It also allows up to three simultaneous streams for an account.
Users can use Philo TV on iOS, Android, Amazon Fire TV, Roku, and more supported devices. In addition, it has a great and on-demand library that allows users to rewind up to 72 hours of content they missed while away.
If you are not here for sports, Philo is the best choice since it doesn't have ESPN or other sports channels. Although this might be a drawback, it is a plus for those looking for a streaming service for other entertainment content.
If you are a fan of Disney Plus Canada and a subscriber, or an ESPN+ subscriber, then Hulu has news for you. For a package that costs $68.99, you get Disney+, ESPN+, and Hulu in Canada. Therefore, on a Hulu live TV vs. Sling comparison, Hulu is, without a doubt, the best.
For sports fans, Hulu ensures you are plugged in for all the games you enjoy with the varying sports channels you get access to. Therefore, in comparing Sling vs. Hulu, Hulu has the edge here. The only drawback might be that Sling Blue supports more simultaneous streams, unlike Hulu, which only supports two.
Before you count Hulu out on that, there are more advantages. First, Hulu can work on any operating system or device associated with streaming from your desktop browser, TV streaming media players, smart home devices, games consoles, and even mobile phones.
With the on-demand library giving you a combination of Disney+ and the regular Hulu on-demand library, you get over 85,000 titles. This is awesome as you can watch endlessly, not forgetting that you are offered free 50 hours of storage upgradable to 200 hours.
Now on Vidgo vs Sling, both take up a competitive market price, but one surely edges over the other. Vidgo TV considers its users and has two English packages and tops up with a Spanish Mas.
You get the English Plus package for $55 a month, the English premium at $79.95 a month, and the Spanish Mas costs $30 per month. All accounts offer a 7-day free trial on the first month.
The difference between Vidgo vs Sling comes in the number of channels. For the English Plus Vidgo package, there are over 95 channels.
If you opt for the English Premium, you get over 112 channels. On the other hand, the Spanish Mass has more than 30 channels.
With up to 3 simultaneous streams supported, Vidgo TV is accessible on a limited number of devices compared to other competitors. However, you cannot miss it on your favourite smartphones, TV-connected devices, and desktop or laptop browsers. It is limited to gaming consoles which is a work in progress.
For the on-demand library on Vidgo TV, there is currently no DVR for free or one purchasable. However, you can enjoy the vast content, titles, and sports on Vidgo TV.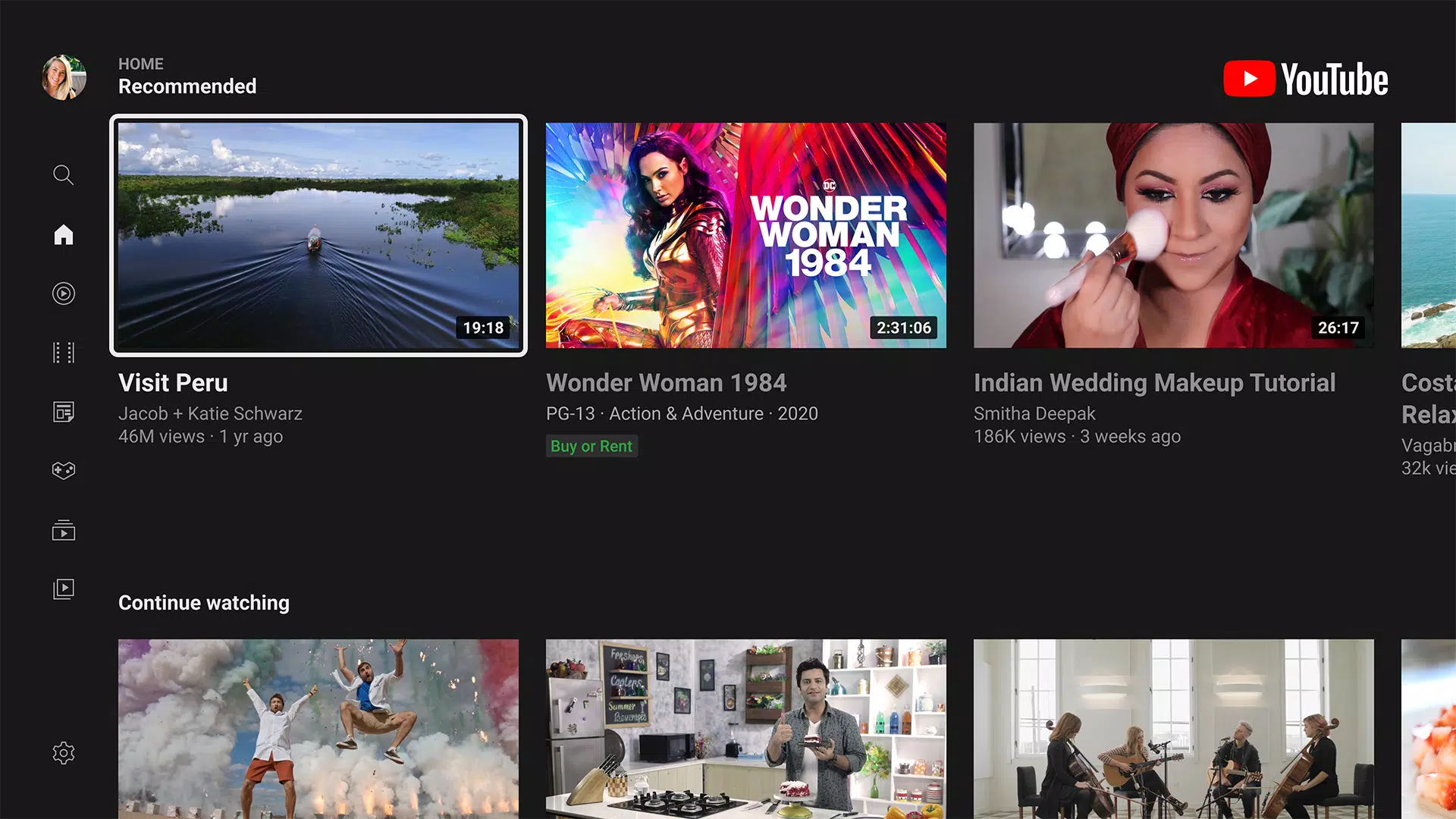 Now, on YouTube TV vs. Sling, the pricing is not the catch point as the channels, TV DVR, and on-demand library are. For YouTube TV's pricing and packages, you only spend $64.99 in a month, and it gives you access to more than 80 cable and OTA networks. 
While comparing if Sling or YouTube TV in Canada is better for you, remember YouTube TV has the best discount offers if you subscribe at the right time.
YouTube TV gives you most if not all of the channels on Sling TV's primary packages. You also get to select any device you want to use to access YouTube TV since it supports most devices. For example, most Mac and PC browsers can access it.
TV streaming media players, smart TVs, and game consoles can also be used to access your account as YouTube TV supports up to 3 simultaneous streams.
YouTube TV gives users the best DVR services for all their favorite content compared to other streaming services. The DVR is unlimited, and you get to keep your recordings for up to 9 months. You can also create as many as six user profiles on one account, and each profile gets the same DVR offer.
The Biggest Problems of Sling TV – Explained
You probably must be wondering what problem Sling TV faces that makes Sling alternatives edge on it. Despite Sling TV functioning well and with high quality, it does not give you the value for your money compared to other Sling TV alternatives.
Their two-model plan is rather confusing and gets expensive if you want to get the best out of Sling TV. How is this? With other services like Sling TV, an extra pay means an addition to the channels you can access. However, Sling TV has two different packages with different sets of channels you can watch. With both totaling 75+ channels, you pay a collective fee of up to 75$.
Some of the issues that make Sling TV get pulled down by other Sling TV alternatives in 2022 are; difficulty when adding more channels to your subscription, modification of DVR functionality, and a limited number of devices you can simultaneously stream from. Below are some of the drawbacks of Sling TV and how other alternatives to Sling address them.
Getting More Channels Is Confusing and Expensive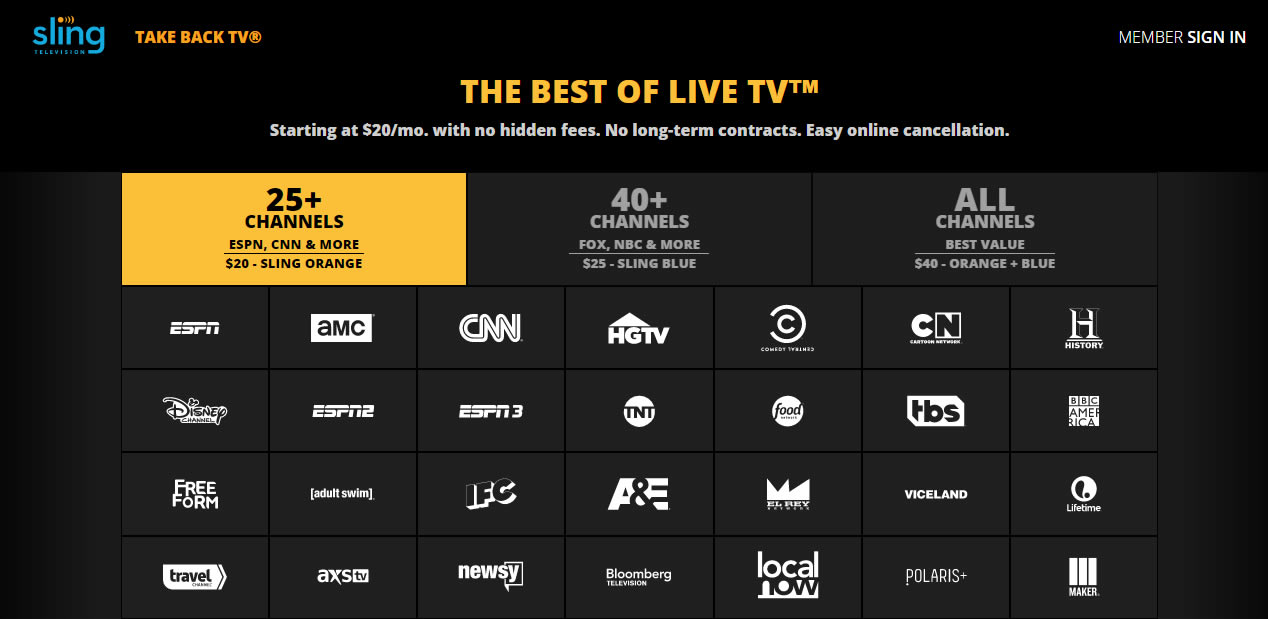 What does it take to add extra channels to your Sling TV subscription? The process is rather confusing and gets expensive because, at some point, you have to pay for every additional channel you get access to. Unlike the Sling TV alternatives, where you collectively get more channels as you pay for a higher subscription, it is quite different with apps like Sling TV.
So, even though the original price for the Orange plus plan, which gives you two channels, is $35, to get additional channels that Sling TV offers, you have to get the Orange + Blue plan at $50 per month. 
To get the different channels offered by the Blue plus plan, you can subscribe at $35 to get the 42-channel line-up. This does not mean that some channels aren't available on both.
As if this is not enough, you have to pay extra fees to add single packages that are not found in both of their packages. If you want to add a premium channel to your Sling TV subscription, you have to pay for it separately. The available additional channels are classified into two different categories:
Premium Channels
Other Sling TV alternatives such as Hulu have premium channels accounted for in the price they charge for a subscription. For Sling TV, premium channels such as HBO and Showtime channel can be subscribed to at an additional fee.
For example, $15 will sort you out for a month for HBO, while you only need $10 a month for Showtime. This cost is independent of the $50 a month you pay for the Orange + Blue plan.
Lifestyle Packages – "Extras"
The Extras are channel collections themed around a specific lifestyle like News, Comedy, and Sports. The extra packages cost around $5 to $10 depending on how much content or rating the channel package has.
Single-device limit with Sling Orange Streaming Plan
It is a notable drawback when users realize they can only use their Sling TV subscription on one device at a time. This means a family setting cannot use the subscription since it doesn't support simultaneous streams. Who do they target with this move?
Those using the higher costing Sling Blue get up to three simultaneous streams. This means that Sling TV discourages you from subscribing to the lowest plan and lures you into subscribing to a better plan which costs more. If a family is determined to cut cable, Sling TV ensures they subscribe to the Orange + Blue plan, which costs more but has three simultaneous streams.
Comparing this issue with other Sling TV alternatives shows one of the problems facing Sling TV. With such a drawback, users may choose cheaper streaming services that offer them more room for simultaneous streaming and thus better for family or friends.
Paying for Cloud Storage
Even with its relatively high subscription charges, Sling TV only provides 50 hours of cloud DVR. This is less than other Sling TV alternatives in 2022 that are fighting to provide the most cloud DVR hours. They offer lower prices considering the vast channels you get with them and go on to provide cloud DVR hours of over 1000 hours.
With the new trend, established streaming services such as YouTube TV provide unlimited cloud DVR where you can store your favourite shows for later and even have them there for up to nine months. If you wish to get more cloud DVR hours with Sling TV, it costs you some extra bucks.
Sling TV blocks you from recording shows offered in the package or the additional premium packages. If this is not Sling TV trying to shake off every dime you have left, they do not give a better offer than some cable connections.
FAQs on Best Sling TV alternatives
What is a better option than Sling TV?
For the best Sports channels, FuboTV is the best replacement for SlingTV. When you are looking for entertainment TV, then Philo does better. For On-demand TV, you need Hulu because it is the perfect replacement for the position. With Vidgo, social TV watchers will enjoy it more than they do with Sling TV. Local channels are best viewed on YouTube TV.
What else is like Sling TV?
After answering what is better than Sling TV, you might want to know what else is like Sling TV. Other cheap live streaming services include Pluto TV, Tubi, and Amazon Freevee.
What is the downside of Sling TV?
Sling TV has a few downsides that include;
A poor technical user interface and payment plan strategy.
It limits Orange+ to only one subscription and uses, thus restricting simultaneous streams.
Charging to offer customers more cloud DVR storage.
Conclusion
With Sling TV being a great option for streamers looking to cut cable, they should be aware of the money trap. Streamers should also know what alternatives are in the market, which will play an even better role than Sling TV. As listed in the article, over five alternatives for Sling TV give value for your money.
Therefore, feel free to choose any Sling TV alternatives for your entertainment use.